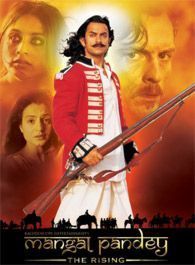 Overall Rating :

Please login to rate this movie.
Mangal Pandey: The Rising
Plot
1857 AD. The entire Indian sub continent is ruled by a company. The British East India Company. The most successful business enterprise in history. The company has its own laws, its own administration, its own army. It controls the destiny of one fifth of humanity. Mangal Pandey - The Rising is an epic tale of friendship, betrayal, love and sacrifice set against the backdrop of what the British called the sepoy mutiny but which for the Indians was the First War of Independence. 'Company ...
Movie Details
Language: Hindi
Status: Released

Cast
Deepraj Rana, Kirron Kher, Ameesha Patel, Aamir Khan, Rani Mukerji