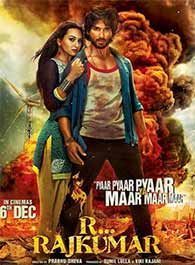 Overall Rating :


Please login to rate this movie.
R...Rajkumar
Plot

R... Rajkumar (earlier known as Rambo Rajkumar) is a visually striking, stylized and persuasively real film. Shahid Kapoor essays the role of Rajkumar - a rugged, rebellious, passionate fighter who also has a devilish charm.
One moment he makes you feel really comfortable and the very next, completely ill at ease! Rajkumar is sexy, brooding and raw.

Movie Details

Genre: Action
Language: Hindi
Status: Released

Cast
Vijay Patkar, Achyut Potdar, Mukul Dev, Sonakshi Sinha, Shahid Kapoor
Production Credits
Choreographer: Vishnu Deva

Costume Designer: Manish Malhotra

Director: Prabhu Deva