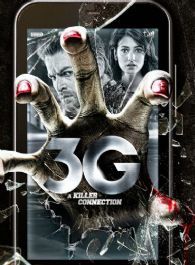 Overall Rating :

Please login to rate this movie.
3G
Plot

There are 4.3 Billion mobile phone users in the world. Every minute 60 thousand "Phantom Calls" are received worldwide. These calls have no known source of origin, no numbers and cannot be traced. Some people believe that these calls are spirits trying to connect to our world!

3G is the nightmarish story of Sam Arora and Sheena, a couple, who become victims of a series of events when Sam buys a 3G enabled second hand phone in Fiji islands while on a holiday.

One ...
Movie Details
Language: Hindi
Status: Released

Cast
Sonal Chauhan, Neil Nitin Mukesh, Mrinalini Sharma
Production Credits
Editor: Sanjay Sharma