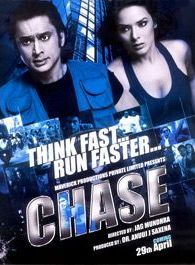 Overall Rating :


Please login to rate this movie.
Chase
Plot

Chase is an edge of the seat thriller, involving raw action and drama.

The main players in this chase to get to the "truth" are Sohail Ansari, a man on the run. DIG Ranveer Tyagi who has vested interest in getting to the bottom of a murder in which Sohail is involved. Insp. Siddharth, right hand of the DIG who is monitoring Sohail's actions. In this scenario enters Nupur Chauhan who is Involved with Sohail closely. The other players of this chase are Surabhee, Sohails love ...
Movie Details
Language: Hindi
Status: Released

Cast
Anuj Saxena, Udita Goswami, Rajesh Khattar, Shweta Menon, Samir Kochhar, Gulshan Grover, Aditya Raj Kapoor, Tarina Patel, Sanjay Mishra
Production Credits
Choreographer: Raju Khan