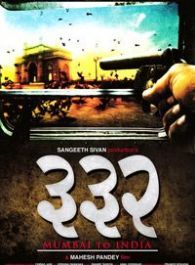 Overall Rating :

Please login to rate this movie.
332 Mumbai To India
Plot

332 is about the North Indian v/s Mumbaikars issue which happened in Mumbai. Several guys were beaten on Kalyan railway station and it led to various incidents all over Mumbai. Rickshaws and taxis were broken down and all Mumbaikars wanting the UPites to be driven out of Mumbai. This forms just a backdrop of our story.

332 is set in various parts of our country. Mumbai, Bihar, Benaras. Mumbai, a city which is a cultural mix of every nationality. The story begins when a young ...
Movie Details
Language: Hindi
Status: Released

Cast