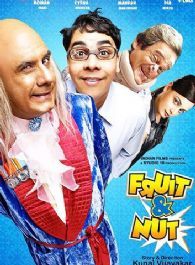 Overall Rating :

Please login to rate this movie.
Fruit and Nut
Plot

Fruit and Nut is a madcap comedy with a central character named Jolly Maker, who is a simple, hard working middle class struggling bachelor in search of love, money, friends and success.

Jolly Maker works as a clerk/accountant in office of a greedy and corrupt builder named Khandar. He is typically nerdy and un-stylish. He is also accident-prone and leaves a trail of disaster behind him.

One fine day in broad daylight, Jolly Maker's beautiful, sexy, smart and snobbish ...
Movie Details

Genre: Comedy
Language: Hindi
Status: Released

Cast
Vijay Patkar, Boman Irani, Cyrus Broacha, Dia Mirza, Mahesh Manjrekar,
Production Credits
Director: Kunal Vijaykar