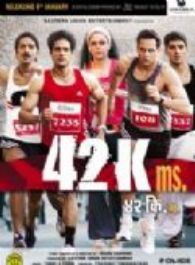 Overall Rating :

Please login to rate this movie.
42 Kms...
Plot
Five ordinary but unique stories with different journeys and different
destinations - but same 42 kms to run! It's an inspirational journey of
perseverance and personal triumph.
In life, we all run with
different motives for different goals. Some run for love…some for
money…some for peace…some for contentment and some for the sheer fun of
it. There's no escape from running. Life is always on a fast track.
42
Kms is a journey of 5 people from diverse backgrounds ...
Movie Details
Language: Hindi
Status: Post-Production / Ready for Release

Cast
Rana Jung Bahadur, Saurabh Dubey, Gautam Kapoor, Prashant Chainani, Sammir Dattani, Mohan Bhandari, Mahima Mehta, Rajesh Khera, Vivek Vaswani, Bikram Saluja, Nauheed Cyrusi, Dara Singh Randhawa, Purab Kohli, Mandira Bedi, Nausheen Ali Sardar, Anupam Shy Ojha