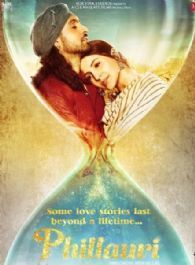 Overall Rating :


Please login to rate this movie.
Phillauri
Plot

Phillauri is a 2017 Indian Hindi romantic comedy film, directed by Anshai Lal and produced by Fox Star Studios Anushka Sharma & Karnesh Sharma under the banner of Fox Star Studios and Clean Slate Films. Director Navdeep Singh and writer Sudip Sharma are associated with the film as Creative Producers. The film will have Anushka Sharma, Diljit Dosanjh and Suraj Sharma in the lead roles.

The film is scheduled for release on March 24, 2017. The film's first official poster ...
Movie Details
Language: Hindi
Status: Released

Cast
Mehrene Ka Pirzada, Salima Raza, Suraj Sharma, Suparna Marwah, Diljit Dosanjh, Manav Vij, Anushka Sharma,
Production Credits
Director: Anshai Lal

Producer: Anushka Sharma