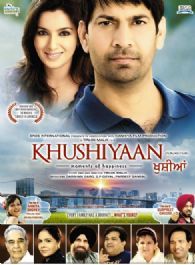 Overall Rating :

Please login to rate this movie.
Khushiyaan
Plot

You could be the "King of Bollywood", "The richest man of India", Or a "Leader of Technoworld"

But if your heart is not at the right place with your relationships, do you think you can feel the "Complete KHUSHIYAAN"?
Raj is an extremely successful and highly driven architect living in New York city with his wife Juhi (a head hunter) and his son Neal,6. Raj has sacrificed everything to fulfill his career ambitions in New York city.
But he is haunted by a lingering ...
Movie Details
Language: Punjabi
Status: Forthcoming

Cast
Gurpreet Guggi, Jasbir Jassi, Vivek Shauq, Kulbhushan Kharbanda, Deep Dhillon, Tisca Chopra
Production Credits
Editor: Bunty Nagi