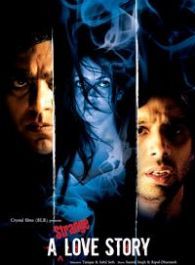 Overall Rating :

Please login to rate this movie.
A Strange Love Story
Plot

In such a vast world, there are somethings that science can't explain, there are some events that can't be understood, this is such a story. A story about young aspiring photographer named Kabeer. His dream was to show the world something it had never seen before. In doing so he unleashes a being not of this world. A being that will stop at nothing to get at the one thing that Kabeer really cares for. A beautiful girl named Jennifer. They start seeing things, people around them start ...
Movie Details

Genre: Drama,Thriller
Language: Hindi
Status: Released

Cast
Snehal Dabi, Riya Sen, Ashutosh Rana, Yashpal Sharma, Milind Gunaji, Raj Zutshi