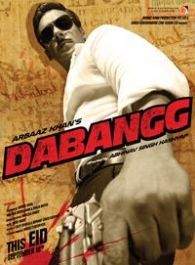 Overall Rating :


Please login to rate this movie.
Dabangg
Plot
"I do not want to be sheltered from dangers. I want to be fearless while facing them."

Dabangg means fearless.

Set in Laalgurj, Uttar Pradesh, Dabangg is a story of Chulbul Pandey (Salman Khan), a totally fearless but corrupt police officer with unorthodox working methods. But even the most fearless at times face a tough fight with their innermost demons. Chulbul has had a bitter childhood. His father passed away when he was very young after which his mother Naini ...
Movie Details
Language: Hindi
Status: Released

Cast
Salman Khan, Arbaaz Khan, Sonakshi Sinha, Sonu Sood, Mahie Gill, Vinod Khanna, Dimple Kapadia, Om Puri, Anupam Kher, Tinu Anand, Mahesh Manjrekar,
Production Credits
Choreographer: Raju Khan

Publicity Designers: Rahul Nanda

Producer: Arbaaz Khan, Malaika Arora