Times have changed, and so has Bollywood! It's not only the directors, but also intelligent actors who are specifically carving a niche for themselves in the apparent 'experimental' independent cinema. One such actor is the extremely talented Rajeev Khandelwal. After a surprising successful transformation from television to Bollywood with his two successes Aamir and Shaitan, Rajeev is once again back with his next project releasing today – Soundtrack. So will Rajeev be able to impress the audiences once again with Soundtrack?


Soundtrack is the remake of award–winning Canadian independent movie It's Long Gone Pete Tong. Raunak (Rajeev Khandelwal) from a small town in India comes to Mumbai and lands a job at "Tango Charlie"- the city's most rocking night club. Charlie (Mohan Kapur), the owner of the club makes him the most indispensable DJ in town based on his prodigious talent. Later on, celebrated film maker Anurag Kashyap gives him the break to compose music in his forthcoming film. His world is now one big party with all the possible sex, alcohol, drugs, smoking, etc. along with the hottest girl at the nightclub played by Mrinalini Sharma. But life has something else planned. Tinnitus coupled with an over exposure to loud noise takes away his hearing ability. With him going deaf, his dreams are shattered and in this depressed state he meets Gauri (Soha Ali Khan), a speech therapist which leads him from his dark state to a happier place where one day, miraculously, he finds a way to make music again.

As expected, Soundtrack is a film with substance. Except its male protagonist, the strongest point of Soundtrack is that – it offers an interesting and different story not seen in Indian cinema before. And sadly, that's a very rare case in Bollywood at least! Similar to the Anurag Kashyap style of cinema, Soundtrack also has its share of dark shades. The first half is full of smoking, alcohol, drugs and sex. Undoubtedly, it's integral to the script. However, on the flipside, after a point it stars to seem repetitive. In fact, it's this overdose which doesn't keep you as interested for a portion of the first half of Soundtrack. Also, the scenes with his 'inner demon' (seen as a joker-faced clown) seem a tab bit unexplained, which makes it seem stupid at times. However, it's when Rajeev starts realizing his hearing disability that the movie grabs great back the attention. The second half of the film saves the day for this film!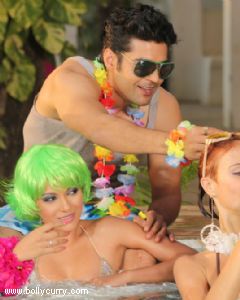 Neerav Ghosh has done a remarkable job being a first-time director. Cinematography by Anshuman Mahaley is perfectly appropriate. The film does seem a bit repetitive at places, and hence, could have done with better editing. Rajeev Khandelwal is the soul of the film. It's his magnificent talent which takes this film to a completely different level. Watch out for the scenes where he shuts himself in a room after turning deaf. Absolutely fantastic! One has to appreciate Soha Ali Khan's guts for taking up such a non-commercial character. She might be having minimal screen space, but leaves an impact. Great performance! Mrinalini Sharma looks a million bucks. She doesn't get much scope, however, gives in a perfect performance in her bit. Mohan Kapur is first-rate. Yateen Karyekar, Ankur Tewari and Sidd Coutto are perfect. However, the actress playing Rajeev's mother needs to work on her acting skills big time!

Overall, Soundtrack is not for the hardcore Bollywood masala film lovers. It's for those looking out for a mere interesting story. A must-watch for Rajeev Khandelwal fans too!

Rating – *** (Three stars)

Author – Rishitu Amarnani
Copyright India-forums.com
User Rating
(61 Votes)
Views 12350
Go to top
User Comments

If You are a member of India-forums, Then You can also log in here.