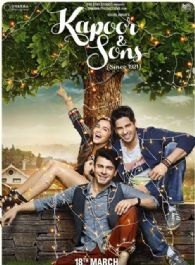 Overall Rating :


Please login to rate this movie.
Kapoor & Sons
Plot
Kapoor & Sons is an upcoming Bollywood romantic comedy directed by Shakun Batra and produced by Karan Johar's Dharma Productions. The film stars Siddharth Malhotra, Fawad Khan and Alia Bhatt in leading roles. The film is scheduled for release on March 18, 2016.

Rahul and Arjun Kapoor, two estranged brothers are forced to return to their childhood home when their 90-year-old Grandpa wants to see them then gets a heart attack. While living under one roof, family secrets unravel ...
Movie Details
Language: Hindi
Status: Released

Cast