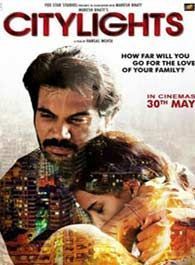 Overall Rating :

Please login to rate this movie.
Citylights
Plot

At
heart Citylights is a love story, a story about familial bonding, a thriller
that explores the depths of human nature and a drama about sacrifice in the
city of dreams. Citylights is about our world, our times and the ultimate
emotion that drives every relationship - love.

Movie Details
Language: Hindi
Status: Released

Cast
Production Credits
Editor: Apurva Asrani

Production Designers: Rajat Poddar

Director: Hansal Mehta