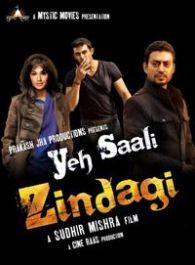 Overall Rating :

Please login to rate this movie.
Yeh Saali Zindagi
Plot

Some bullets kill you, some save your life; some women kill you, some save your life.

Arun (Irrfan Khan) has to save Priti (Chitrangda Singh) the woman he loves, but for that he first has to save the man Priti loves- Shyam, the future son in law of a powerful Minister. Meanwhile, time is running out for Kuldeep (Arunoday Singh), the young gangster who is on his last job as his wife is threatening to walk out on him completely, and he begins to suspect she is leaving him to ...
Movie Details
Language: Hindi
Status: Released

Cast
Irrfan Khan, Arunoday Singh, Chitrangda Singh, Sushant Singh, Aditi Rao Hydari, Saurabh Shukla, Yashpal Sharma, Prashant Narayanan, Vipul Gupta