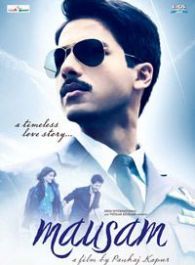 Overall Rating :

Please login to rate this movie.
Mausam
Plot

Four Seasons. Four Colors. Four different age groups of our protagonists. Four true historical events. This is what constitutes our Film - Mausam

Mausam, a love story in its first season start with mere adolescent attraction between a Punjabi boy Harry, and a Kashmiri girl Aayat, in a small village of Punjab. It develops into young love between them in season two. Their love realizes its own depth in the hours of separation through season three. In the fourth and final ...
Movie Details

Genre: Romance
Language: Hindi
Status: Released

Cast
Shahid Kapoor, Sonam Kapoor, Anupam Kher, Supriya Pathak, Manoj Pahwa
Production Credits
Publicity Designers: Rahul Nanda

Director: Pankaj Kapoor