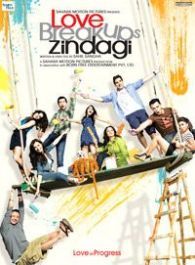 Overall Rating :

Please login to rate this movie.
Love Breakups Zindagi
Plot

Drowned by the hustle-bustle of the 21st Century, many of us just don't have the time for this strange concept called love. From the buzzing sound of our wake up alarms, to the "ting" of our blackberry's through the day, our ability to find time for our innate need to be loved seems to be fast declining!

Love, BreakUps Zindagi, takes us on a journey that unravels the many facets of love, through the lives of friend who find themselves at different cross-roads.

As ...
Movie Details
Language: Hindi
Status: Released

Cast
Zayed Khan, Dia Mirza, Cyrus Sahukar, Tisca Chopra, Vaibhav Talwar, Auritra Ghosh,
Production Credits
Cinematographer: Aseem Bajaj

Producer: Dia Mirza, Zayed Khan

Choreographer: Remo Dsouza