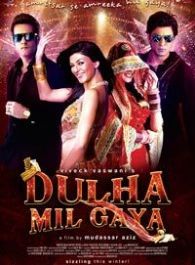 Overall Rating :

Please login to rate this movie.
Dulha Mil Gaya
Plot
Dulha Mil Gaya is a heart-winning tale of four individuals each of whom have different takes on relationships in their lives.

Donasi, a young commitment phobic debonair, is petrified with the idea of terms like 'marriage' and 'long term relationships'.

Samarpreet, a quintessential Punjabi girl, for whom relationships are to be cherished and lived by.

Shimmer, a diva from the world of glamour, for whom love and relationships aren't quite half as important in life as ...
Movie Details
Language: Hindi
Status: Released

Cast
Sushmita Sen, Ishiita Sharma, Fardeen Khan, Tara Sharma, Johny Lever, Suchitra Pillai, Mohit Chadda, Suchitra Pillai, Howard Rosemeyer, Parikshit Sahni, Anushka Manchanda, Beena Kak, Vivek Vaswani,
Production Credits
Director: Mudassar Aziz

Producer: Vivek Vaswani

Story Writer: Vivek Vaswani