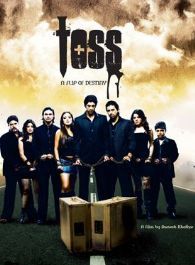 Overall Rating :


Please login to rate this movie.
Toss
Plot


An incident can change lives, beliefs, relationships and in most
probability.. You.

Toss is the captivating story of childhood friends who on their way back from a vacation stumble upon a fortune. They decide to split the money and start dreaming a king's life. They calculate the actions, risks, percentages- but forget to calculate the human heart. Soon before they realize the owners of the booty are after them, the law is after them and worse ...they are after each ...
Movie Details

Genre: Thriller
Language: Hindi
Status: In Production

Cast
Zakir Hussain, Madhuurima Banerjee, Shruti Gera, Prashant Raj Sachdev, Vijay Raaz, Mahesh Manjrekar, Sushant Singh, Aarti Chhabria, Rannvijay Singha, Ashmit Patel, Rajpal Yadav