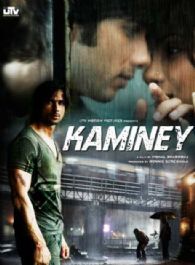 Overall Rating :


Please login to rate this movie.
Kaminey
Plot

A story about identical twins, in early twenties, hoping to leave the
squalor behind and move into a life of prosperity and dignity. But the
similarity ends here. Intercut between the parallel stories of the
brothers as they run to protect themselves, their dreams and their
love. Until a point where it converges and the brothers meet to realize
that they only have each other.


Movie Details
Language: Hindi
Status: Released

Cast
Harish Khanna, Chandan Roy Sanyal, Shivkumar Subramaniam, Deb Mukherjee, Hrishikesh Mukherjee, Amol Gupte, Priyanka Chopra, Shahid Kapoor
Production Credits
Cinematographer: Sudeep Chatterjee

Screenplay: Sabrina Dhawan

Choreographer: Raju Sundaram

Producer: Ronnie Screwvala

Director: Vishal Bhardwaj

Screenplay: Vishal Bhardwaj