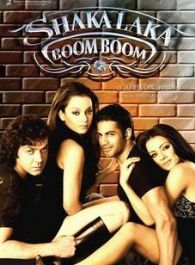 Overall Rating :

Please login to rate this movie.
Shaka Laka Boom Boom
Plot
The movie revolves around two men with a similar passion- music. AJ (Bobby Deol) is playing a ruthless guy with a manipulative frame of mind.He has reached where he is through sheer dint of slog and hard work. He is used to winning, he revels in it and will never allow anybody to overtake him. Reggi (Upen Patel) is a talented and upcoming singer who is struggling hard to get noticed.Young and hugely talented, he hungers for what AJ has, he craves to be where AJ is. Ruhi (Kangana Ranaut) is ...
Movie Details
Language: Hindi
Status: Released

Cast
Vivek Vaswani, Upen Patel, Bobby Deol, Kangana Ranaut