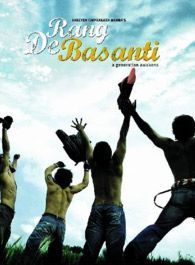 Overall Rating :

Please login to rate this movie.
Rang De Basanti
Plot



After fighting for his country in Mangal Pandey, Aamir Khan is all set to star in Rakeysh Mehra's film Rang De Basanti as a Delhi University student. During the shoot, everyone thought that this was another period drama from Aamir Khan mainly because of it's title and the Mangal Pandey hangover. But that isn't true. <br><br>

So what exactly is the film about? <br><br>

A young idealistic English Film-maker Sue (Alice Patten) comes to ...
Movie Details
Language: Hindi
Status: Released

Cast
Siddharth Suryanarayan, Cyrus Sahukar, Kirron Kher, Waheeda Rehman, Aamir Khan,
Production Credits
Choreographer: Vaibhavi Merchant